Hi all, Nat here with my second project for Helmar.
I am making a vintage-style wall hanging that uses mostly recycled pieces, including old CDs, book pages and laces.  Even the glossy photo paper used was sourced from the local secondhand shop.
My first task was to use my circle punch to create some vellum shapes to cover the hole in the middle of the three CDs I am using.  This will reinforce the area so I don't put a hole in the paper when I cover them.
Next I use the 450 Quick Dry Adhesive to adhere tea-dyed copy paper to what will be the rear of the CDs.  I then cover the front of the CDs - one with tea-dyed paper that has a lovely pattern from a plastic tablecloth on it, one with antique German text and the last with vintage music paper.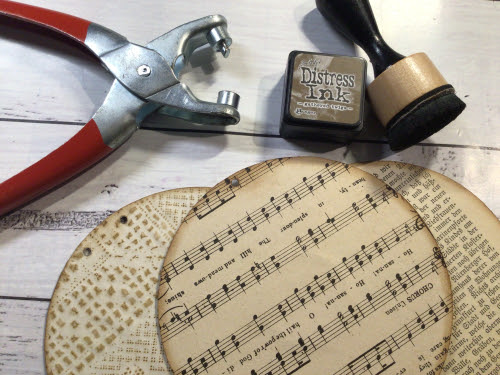 I used my leather hole punch to create two holes at the top of one of my CDs to enable me to add some material to hang my creation with, then I punched one hole at the base of what will be the bottom CD of my wall hanging for a dangle to be added later.  I then used my distress ink to ink the edges of my disks.
Texture paste is applied next using a pallet knife and spreading it out over a rose-patterned stencil.  I left this to dry overnight before moving on.
I then placed the stencil back over the pattern to apply distress ink on the texture paste to colour it.  I love the pretty effect that this has.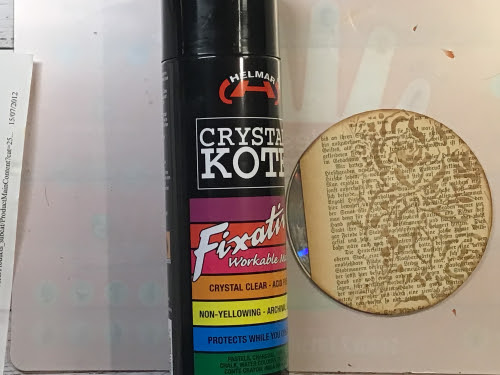 At this point, the spray application of the Crystal Kote Fixative on the front and back of my CDs  helps protect and seal my papers while enabling me to still continue adding more mediums (paints, inks etc) if I so desire.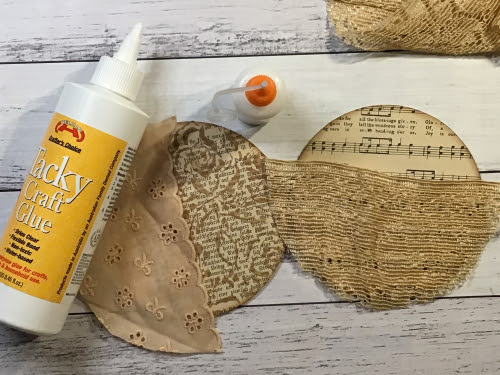 Pieces were cut from a lace tablecloth and some tea-dyed broderie anglaise to create pockets on two of my CDs.  I use the Tacky Craft Glue to lightly hold the bottoms of my pockets to the fronts of the CDs while I turn them over and affix the backs.
Next I snip slits into the overhanging fabrics to make it easy to fold over in increments and stick down with the Fabric Glue.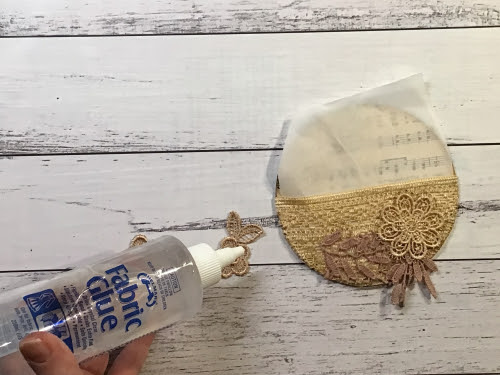 Now we are up to the fun part - which is embellishing.  I use the Fabric Glue again to add some lace pieces to my pocket and the other CDs.  I put some grease-proof paper into the pocket first so that I did not stick it shut!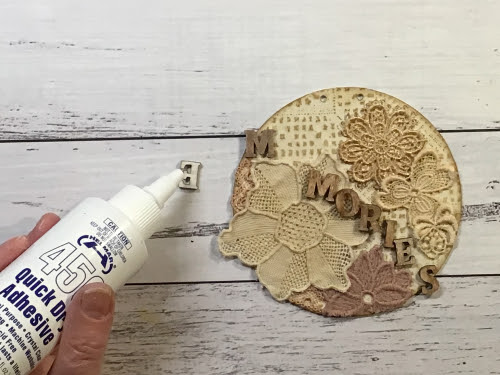 I have some letters that I have undercoated with a light cover of white gesso, then painted with distress ink.  I am adhering these to my top CD with the 450 glue.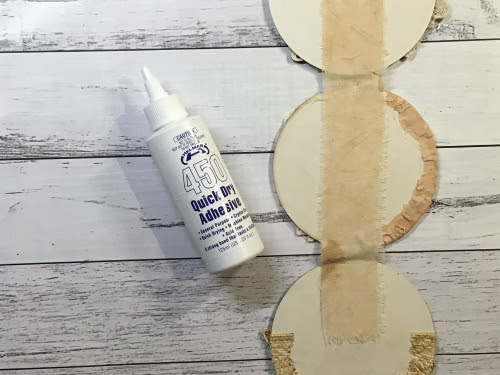 Once I have finished embellishing my CDs I glue them to a strip of tea-dyed fabric to create my wall hanging.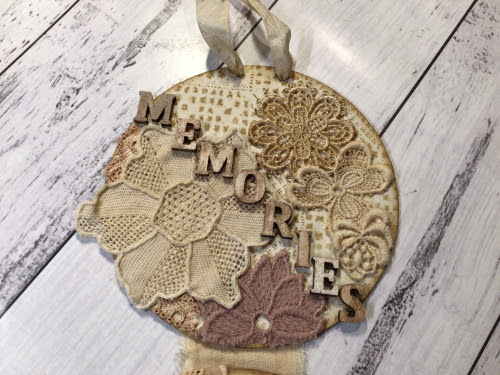 The next task is to thread some seam binding through the holes in the top CD to be able to hang my creation.  I then add a cute, little butterfly dangle made with broken jewellery from the bottom CD hole.
With the addition of a few sentimental family photos in the pockets, I now have a beautiful piece to hang on my wall.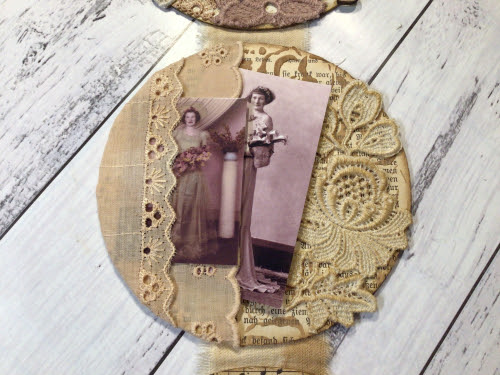 You can check out my full process video here:
I really enjoyed making this project, being able to re-use these CDs and to create something beautiful to display in my home.  The photos included are of my gorgeous Grandmothers, and it is such a nice way to remember them.
Thanks for joining me today.  I hope you will try this project sometime and enjoy creating a CD wall hanging.
Take care - Nat xx
PRODUCTS USED:
Helmar
Tacky Craft Glue
450 Quick Dry Adhesive
Crystal Kote Fixative - Workable Matte
Fabric Glue
Other
Cds
Laces
Book Pages
Tea-dyed Paper
Distress Ink - 'Ground Expresso'
Gesso
Texture Paste
Photos